Nectarine

Platform - MIDI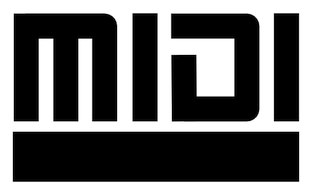 Songs in MIDI (Musical Instrument Digital Interface) format. Specific details of the recording (e.g. synthesizer used for rendering) should be listed in the info section of each song.
A MIDI file is not an audio recording. Rather, it is a set of instructions - for example, for pitch or tempo - which tell a synthesizer or sampler how to play back sounds. MIDI file arrangements were an attractive way to share music, before the advent of broadband internet access and multi-gigabyte hard drives. Licensed MIDI files on floppy disks were commonly available in stores in Europe and Japan during the 1990s. The major drawback to this is the wide variation in quality of users' audio cards, and in the actual audio contained as samples or synthesized sound in the card that the MIDI data only refers to symbolically. There is no standardization of how symbols are expressed. Even a sound card that contains high-quality sampled sounds can have inconsistent quality from one sampled instrument to another, while different model cards have no guarantee of consistent sound of the same instrument.
Early budget-priced cards, such as the AdLib and the Sound Blaster and its compatibles, used a stripped-down version of Yamaha's frequency modulation synthesis (FM synthesis) technology played back through low-quality digital-to-analog converters. The low-fidelity reproduction of these ubiquitous cards was often assumed to somehow be a property of MIDI itself. This created a perception of MIDI as low-quality audio, while in reality MIDI itself contains no sound, and the quality of its playback depends entirely on the quality of the sound-producing device (and of samples in the device).
(some information taken from Wikipedia)

Songs
| Song Title | Artist | Song Length | Status | Vote | Queue | Last Request |
| --- | --- | --- | --- | --- | --- | --- |
| 11th Hour - 2nd Part - MIDI | TDK (Mark Alan Knight) | 3:31 | Inactive | 3.5 | | 2019-07-11 |
| 4mat DNA Dream - MIDI | TDK (Mark Alan Knight) | 4:01 | Inactive | 3.5 | | 2019-04-14 |
| A Final Hyperbase | PowerTrace (Kent Walldén) | 5:35 | Inactive | 5.0 | | 2019-12-17 |
| Alfred Chicken - Meka1 midi | TDK (Mark Alan Knight) | 2:13 | Inactive | 2.7 | | 2019-07-13 |
| Aspire 2 | Virt (Jake Kaufman) | 3:56 | Active * | 3.7 | | 2023-08-25 |
| Assassin | Allister Brimble | 7:15 | Active * | 4.1 | | 2023-12-01 |
| Chooky Credits | Mrs. Beanbag | 0:51 | Active * | 3.5 | | 2022-10-24 |
| Comtec 5 | lemonade (Pasi Sakala) | 1:00 | Inactive * | 2.6 | | 2015-01-03 |
| Comtec 9 | lemonade (Pasi Sakala) | 3:55 | Inactive * | 2.2 | | 2015-02-21 |
| Crying Out | m0d (Red Tuby) 3LN | 3:22 | Active | 3.9 | | 2023-03-16 |
| Discovery | m0d (Red Tuby) 3LN | 11:25 | Active | 3.6 | | 2023-07-23 |
| DPopMix 5 | lemonade (Pasi Sakala) | 1:28 | Active * | 3.1 | | 2022-12-24 |
| Dreams Are Forever | m0d (Red Tuby) 3LN | 4:32 | Active | 3.9 | | 2023-09-07 |
| Elliptical | m0d (Red Tuby) 3LN | 3:05 | Active | 4.0 | | 2023-07-18 |
| Full Contact | Allister Brimble | 5:54 | Active * | 4.3 | | 2023-11-18 |
| Globular Cluster | Yerzmyey | 3:53 | Active * | 4.0 | | 2023-10-26 |
| Gone Laserdancing | Little Bitchard (Arto Koivisto) | 4:26 | Active * | 4.1 | | 2023-09-30 |
| Kyria | m0d (Red Tuby) 3LN | 6:54 | Active | 4.4 | | 2023-12-04 |
| Liberation Ingame | TDK (Mark Alan Knight) | 10:43 | Active * | 3.3 | | 2023-06-29 |
| Marwnia Forever | m0d (Red Tuby) 3LN | 8:24 | Active | 4.0 | | 2023-10-22 |
| MIDI Massacre | TôBach | 2:54 | Active | 2.2 | | 2023-02-21 |
| Midnight | m0d (Red Tuby) 3LN | 4:52 | Active | 4.0 | | 2023-08-23 |
| Modest Bricks | STS-136 (Greg Kennedy) | 2:28 | Active | 3.1 | | 2022-03-03 |
| Monty on the Run - High Score - Midi | TDK (Mark Alan Knight) | 6:15 | Inactive | 3.7 | | 2019-03-13 |
| Project X | Allister Brimble | 4:58 | Active | 4.2 | | 2023-04-12 |
| Quest | m0d (Red Tuby) 3LN | 5:17 | Active | 3.9 | | 2023-04-26 |
| Red Reflections | m0d (Red Tuby) 3LN | 8:07 | Active | 3.9 | | 2023-03-06 |
| Retrospective | m0d (Red Tuby) 3LN | 9:03 | Active | 3.7 | | 2023-06-24 |
| Starlight | m0d (Red Tuby) 3LN | 5:06 | Active | 4.0 | | 2023-11-29 |
| Sudden Uplift | m0d (Red Tuby) 3LN | 6:40 | Active | 4.1 | | 2023-08-07 |
| The Escape from Marwinia | m0d (Red Tuby) 3LN | 8:39 | Active | 4.1 | | 2023-11-15 |
| The Great Bath (remake) | snyp | 2:14 | Active * | 4.6 | | 2023-12-05 |
| Thesmophoria | Allister Brimble | 4:09 | Active | 4.3 | | 2023-09-19 |
| Time Out | m0d (Red Tuby) 3LN | 7:41 | Active | 3.6 | | 2023-11-19 |
| World's Most Wanted Wiener | Virt (Jake Kaufman) | 4:28 | Active | 4.4 | | 2023-11-11 |
| Year's End | m0d (Red Tuby) 3LN | 5:40 | Active | 3.6 | | 2023-03-24 |