Nectarine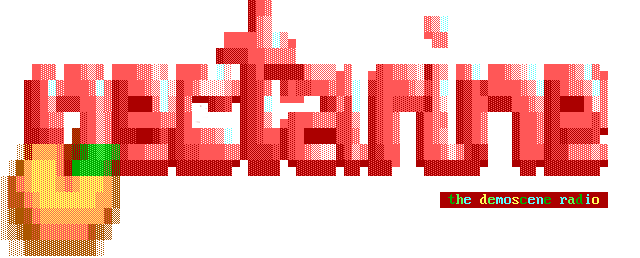 Song Information
Tags for song:
2015
Revision
Related songs:

MeHTb!
by

MmcM (Sergey Kosov)

Come to Success (Deeper Focus)
by

Basscadet (Susanna Viljanmaa)

36 Flying Fists
by

Bod

Onwards Fading Future

by

Gargaj (Gergely Szelei)

Space Cheddar
by

Stinsen (Johan Samuelson)

Small Matters of the Heart (Party Version)

Author:

Velo

Approximate
Uploaded By:

Yohabro
Song Length: 5:48
Release Year: 2015
Song Status: Active
Song Bitrate: 320 kbps
Song Source: Compo Entry
Song Platform:

64K exe
Additional Information:
NOTE: Current reupload using Souncloud (via Pouet). Not clear if that is 100% demo or a remastered version (see comment about artifacts below).
Comments from the makers:
Cryptic:
Finally we are back with a new intro! First one with our new engine. Not a lot of time for proper design this time around since most time has been spent on
coding and bugfixes but at least we got something released. Expect a cleaned up final to follow in the not to distant future when we have recovered from the party deadline crunching.
Velo:
So here we are, once again at Revision getting no sleep. It feels great releasing something new finally,especially in a compo like this, hope you enjoy! Consider this a party version that needs polishing,
we did not have time to fit all the things we wanted so expect a final version (hopefully not two years from now).
There are some artifacts in the sound that may or may not be noticeable, just pretend its an old vinyl. It will probably, among other things, be fixed in a final version.
----------------------------------------
No room in this party version, but greets fly out to:
Mercury, Conspiracy, Ctrl-Alt-Test, Brain Control, Fairlight, Farbrausch, Censor, #ukscene allstars, EDiS, Tulou, Ate bit, Scullar, Triad, DCS, Nature, FlowersFX, Outbreak, Cellfish, Razor1911, Traktor, Whazzah, SystemK, The Gang, RGBA, Panda Cube, rtificial
Last Queued : 3 days, 6 hours ago
This song has been played 49 times. [See Request History]
It was added 8 years, 5 months ago.
Song Rating
Song Rating: 3.6 - Votes Placed: 27
View Voting History
A total of 6 users have this song on their favourites list.
Compilation / Remix Information
Screenshots
Song Corrections & Updates
[Edit Information] - [Add Links]